Attracting more visitors to your website can bring more customers to your business and therefore more profit.
The most common enquiry that Citimedia receive is from prospective clients who already have a website, but are either disappointed that it isn't doing very well in search engines; or that their competitors come up higher than them in search results. Website marketing is an important part of our business and we are usually able to help with increasing the visibility of your website. Our rates for our work in getting you more website visitors start at just £25 per month.
Within the website marketing industry, this area of expertise is often referred to as Search Engine Optimisation (SEO). This is a phrase that Citimedia are uncomfortable in using, as it is often made out to be a technical and mysterious science! Our first hand experience is that your website will do well with visitors and search engines if it is well-structured, and contains unique, interesting content. Importantly, other websites will want to link back to your pages.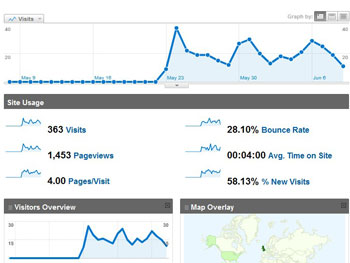 Imagine that your website currently attracts 300 unique visitors a month and on average your business "wins" 6 new customers from those visitors. Now imagine that there is a modest increase in your visitors and you now attract 500 unique visitors per month. Assuming the same conversion rate, that should result in an extra 4 customers for your business. Attracting 1000 unique visitors should result in an extra 14 new customers. Our methods really do work - take a look at one of our many success stories.
When we design a website, we must remember that the aim of Google and other major search engines is to deliver 100% relevant websites in their search listings and they are constantly tweaking their algorithms to ensure that this happens.
Therefore, websites that will do well in search engines are sites that contain relevant, useful and honest content relating to the subject. Standing back and trying to be impartial, take a look at your current website and try to view it as if you were a potential customer. Does it give you the information you were looking for; would you link back to it; and would you recommend it to a friend or colleague?
It is no use just cramming the page with keywords or information that is not relevant to the subject. Worse still, do not add a list of your business keywords in white text on a white background at the bottom of the page. Search engines are very clever at finding the various ways used to try and manipulate them, and your website could be penalised for doing so.
We recommend using a clean and relevant URL for your website pages. The end of the URL for this page is "attract-more-website-visitors" which is both relevant to the topic we are discussing and it looks clean and crisp. We could have called it "attract.html" but it wouldn't have had the same effect or benefit in terms of search engines.
Incoming links to your website are hugely important and help the major search engines determine whether your site is considered relevant and important. Incoming links to your website from other respectable websites act as a positive vote and can show that your site is a trustworthy source of information. Citimedia can help to find relevant incoming links to your site.
Google Adwords is a great tool for new websites, and as an interim measure for websites that aren't currently doing well in search results. It can be an excellent source of instant leads for your business. We work with several businesses who spend just £50 per month on Google Adwords, but tell us that they get over 20% of their overall business as a direct result.
The above is just a small example of our clever and simple methods. If you would like to discuss how we can help attract more visitors to your business website, starting from just £25 per month, please telephone us on (01452) 290080 or contact us by email. We look forward to working with you.