A real example of how our methods really can attract even more website visitors and business customers.
In late 2010, Citimedia were approached by a Gloucester removals firm that wanted to attract more customers and grow their business. The firm had a great local reputation, but their existing website wasn't generating as much new business as they wanted. Recommended to us by friends, they knew that their website could be a powerful and important marketing tool for them.
Looking at how we could generate more website visitors, we recommended adding even more useful content to the website. We suggested adding it under different page URLs using keywords and phrases that people might use when doing a search online for a removals company in Gloucestershire.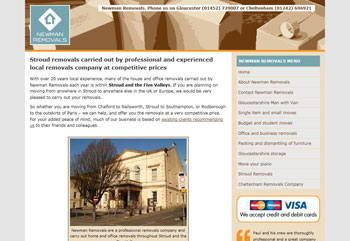 Piano removals was something that they had considerable expertise in, but they hadn't really pushed on their website before. So we added a page on their website about "piano removals in Gloucestershire". As a result of the changes we made, they have carried out more piano moves in the past few months than the whole of the previous year!
Gloucester is a large city, and competition amongst the many removal firms is very fierce! However, just down the road is the market town of Stroud, which has only a handful of removal firms. Newman Removals had considerable experience of working in Stroud, but again, were not advertising this fact on their website.
So we added a "Stroud removals company" page on their website with relevant content. As a result, a large proportion of their removals business is now carried out in and around the Stroud area. Mostly, this is new business that they were not getting before.
The website has grown from just a few pages to over 11 static pages, and a blog. In less than six months, the number of website visitors has nearly trebled and Newman Removals are a very busy and popular local removals firm!
If you would like to discuss how we can help attract more visitors to your business website, starting from just £25 per month, please telephone us on (01452) 290080 or contact us by email. We look forward to hearing from you.